Get every cricket update! follow us
In what could be his final match against arch-rival Lionel Messi, Cristiano Ronaldo scored twice, but his side, a combined XI of Saudi Arabian side Al Nasr and Al Hilal, lost 5-4 to Paris Saint-Germain on Thursday.
Keylor Navas' former Real Madrid teammate Ronaldo suffered a cheek injury after colliding with the PSG goalkeeper, but the Portuguese football legend still managed to score two goals. Virat KohliThe former captain of the Indian cricket team, praised Ronaldo for his performance and slammed "football pundits" who criticized him recently.
In an interview with British television host Piers Morgan, Ronaldo slammed the team and manager Erik ten Haag and drew a backlash for the way he left Manchester United. Although he said in interviews that he planned to continue playing in Europe, he eventually signed with the Al-Nasr team in Saudi Arabia.
After Ronaldo's performance, Kohli shared a picture of the football great on his Instagram and wrote:
"Still doing it at the highest level at 38. Football pundits sit and criticize him for attention every week now conveniently calm that he has put in this kind of performance against one of the world's top clubs. And he's apparently finished."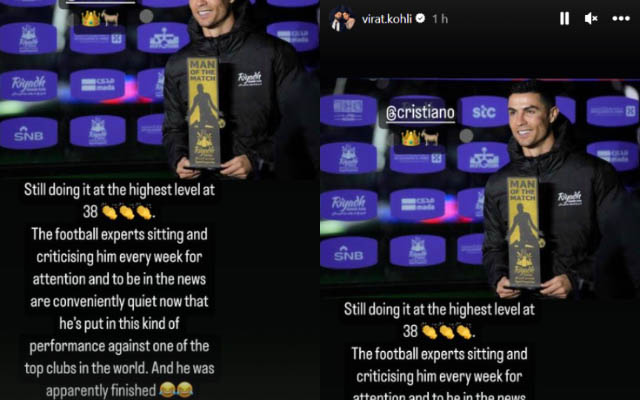 Kohli's admiration for Ronaldo has never been a secret. The former India captain has been compared to the legendary Portuguese footballer due to his commitment to fitness and status as one of the best players of his generation.
Kohli is currently in great form with the bat. In the last two months, i.e. December 2022 and January 2023, Kohli managed to score three ODI centuries. After going through a weak patch in his career, the 34-year-old ended a three-year hiatus of ODI centuries and returned in style. He is currently a part of the Indian squad to face New Zealand at home in the three-match ODI series. India have won the first game and currently lead the series 1-0.
For a better experience: Download the CricTracker app iOS App Store And Google Play Store