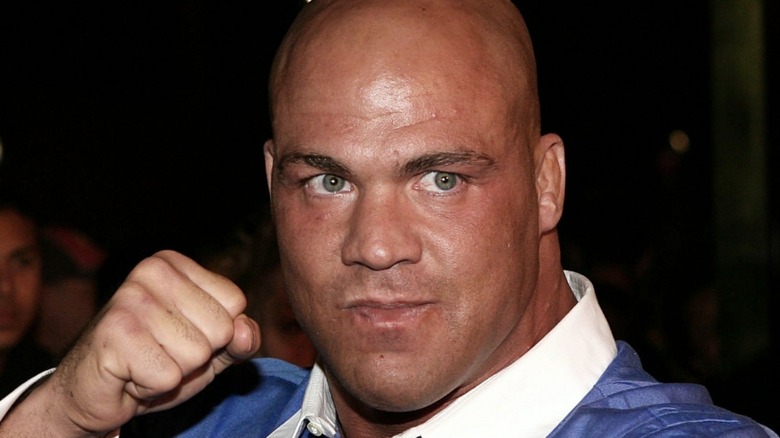 Michael Buckner/Getty Images
Brock Lesnar's victory over Kurt Angle in the main event of WrestleMania XIX marked the beginning of Lesnar's second WWE Championship reign. But, as Angle explains in a new episode "The Kurt Angle Show," the original plans for how things ended were much different than what they turned out to be. In fact, the initial concept called for the Olympic gold medalist to retain his title as part of an extended run that he compared to The Bloodline's current reign in WWE.
The match between Lesnar and Angle was the culmination of a months-long storyline that began in late 2002 with the creation of Team Angle. Team Angle was formed to help the WWE Champion retain his title, bringing together his new manager, Paul Heyman, and amateur wrestling standouts Charlie Haas and Shelton Benjamin. Haas and Benjamin won the WWE Tag Team Championship in early 2003 and according to Angle the pieces were on for a long run at the top.
"I was supposed to have a pretty long title reign of over a year," he said. "They're going to put that title on me and put the titles in a team angle — the tag team titles — and we're going to have to do what Roman Reigns and The Usos are doing now. That's what was planned." But the plan fell through after Angle broke his neck in a match about a month before WrestleMania — An angle of four He broke his neck while with WWE. However, Angle still managed to compete at WrestleMania and dropped the title to Lesnar.
He returned to the ring much sooner than expected, opting for a "clean-up" surgery that would have brought him back in just three months, rather than a more significant operation that would have forced him into early retirement. At that point, WWE reintroduced Angle as a babyface and disbanded Team Angle. The stable lasted about six months, leaving plenty of potential on the table. "These groups, they become really popular," Angle said. "NWO, DX, and Team Angle. Like I said, we don't belong in that category because we haven't been around long enough to get that kind of honor. But I feel like if we did, we'd be one of them. The greatest team of all time."