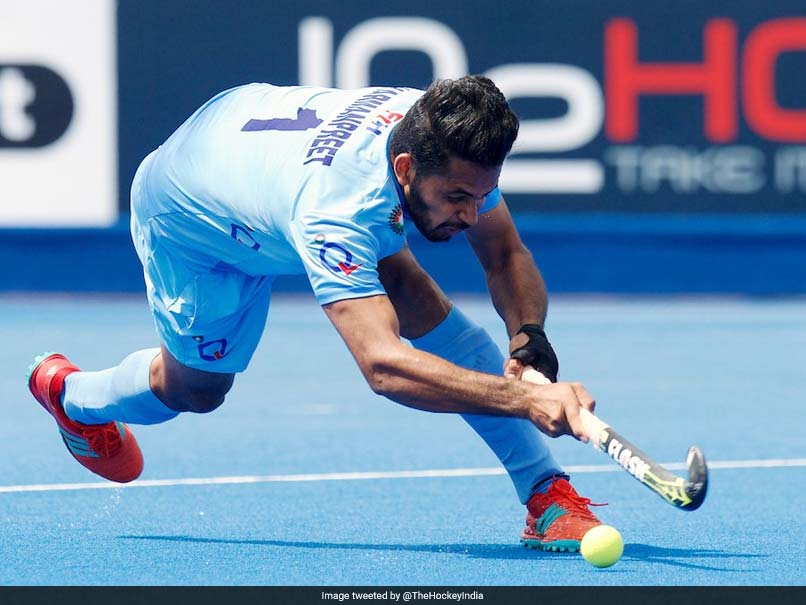 A disappointed Hockey India president Dilip Tirki said on Monday that captain Harmanpreet Singh's "sudden drop in form" was a concern, although a lack of penalty corner goals was not the only reason for the home side's shock and premature exit from the FIH Men's World Cup. In Bhubaneswar. India lost to New Zealand in a penalty shootout in their crossover match on Sunday after the two teams were locked 3-3 at the end of regulation time.
Turki said that any talk of changing coaches and captains is premature as the World Cup is on and India will be playing 9th to 16th ranked matches.
"Harmanpreet was doing very well in the FIH Pro League matches and Australia series (five matches) just before the World Cup. We expected a lot from him but the sudden drop in form in the World Cup is a concern." Turki, one of the best penalty corner hitters of his time, told PTI in an exclusive interview.
"There are some up and coming drag-flickers on the team as well. Drag-flickers are very important in modern hockey and we will plan accordingly," added Tirkey, who had a lengthy meeting with the team on Monday.
"Just a year and a half ago, we won bronze at the Olympics and then not reaching the quarter-finals of the World Cup is very disappointing."
Sponsored by Vuukle
Harmanpreet has taken most of India's 26 penalty corners in four matches, from which the team has conceded just five goals.
Harmanpreet himself converted only two PCs.
"Ultimately, as I said earlier, if we don't score more goals from penalty corners, we will face problems and that was the case yesterday," said Tirkey, a former India captain who has played 412 international matches.
"The team's strong point was scoring from penalty corners. We had high expectations from Harmanpreet. But his flicks were not converting into goals, and we saw that from the first match to the end. Not scoring from PCs hurt the team a lot," Tirki said. India gave New Zealand a crossover match from a winning position.
"We had enough chances to win the match against New Zealand. We were 3-1 up and we could have done better defensively. Then in the shootout, both our goalkeepers did very well and gave us chances to win the match. But we missed chances in the shootout as well and the match lost
"Kahi na kahi zita huwa match ko hum unko de dia he (Somehow, a match we should have won was gifted to them)," he said.
Harmanpreet could have sealed the match for India in sudden death but wasted the chance.
"We played aggressive hockey and had chances (against New Zealand). We got 10 pucks and we only scored two goals from them, we could have scored more," said Turki.
"Some players from whom we had high expectations, somehow did not perform. We all accepted that." Tirki, one of the best defenders of his generation, was also not happy with the performance of the home side's defensive unit, which included Harmanpreet.
"If we talk about defence, I think there was something missing in our defensive structure, we could have done better (against New Zealand).
"We also felt the absence of Hardik Singh, he was performing very well and his injury hurt us. But we could have won the match with the players we have." Head coach Graham Reid said after Sunday's defeat against New Zealand that the team needed a mental conditioning coach up front, and Turki said Hockey India would do the necessary. "Whatever the team needs, we are ready to do. Whatever the coach and the team needed, Hockey India has given it," he said.
Asked if there will be a change in the position of coach or captain, Turki said, "I will see later. The World Cup is going on and there is no discussion about it." India will play Japan in their first classification match in Rourkela on January 26, before facing an as-yet-unknown opponent on January 28.
Tirki said the team's next priority is to do well in the Asian Games to be held this year.
He said, Asian Games is very important for us and it is our priority before Olympics next year.
"Some players are out of the team due to injuries, they will come back. Some players may not have performed well due to pressure. We will give the team a mental conditioning coach and we will see."
(This story has not been edited by NDTV staff and is generated automatically from a syndicated feed.)
Featured video of the day
Does India need a safety net in batting?
Topics covered in this article