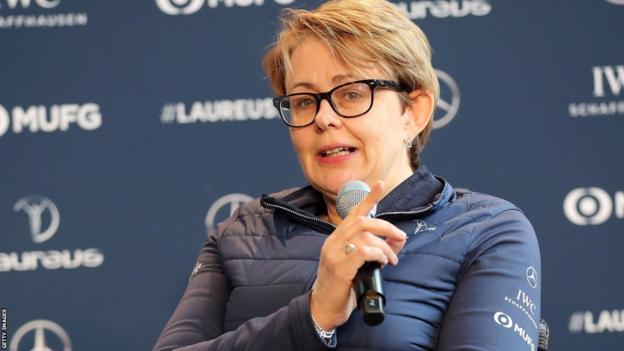 Baroness Tani Grey-Thompson has been appointed co-chair of Yorkshire until Lord Patel steps down in March.
Grey-Thompson, who is a non-executive director at Headingley, will then serve as interim chair of the county until a replacement is appointed.
Yorkshire Dr They will "work with a leading international executive search firm to conduct a fair, thorough and robust recruitment process".
Lord Patel announced that he would step down earlier this month.
Patel, 62, was appointed in November 2021 after Roger Hutton resigned following a backlash at the club. Azim Rafique's racism scandal.
Former Yorkshire spinner Rafique said in 2020 that abuse at the club had brought him close to taking his own life.
Grey-Thompson, who has won 11 Paralympic gold medals, joined Yorkshire's board in May 2022.
"I am grateful to the board, and in particular Baroness Grey-Thompson, for agreeing to be part of a smooth handover process," Lord Patel told the club's website.
"It's been a pleasure working with such an experienced and committed leadership team, and I know everyone is committed to our mission to get this club back to where it deserves to be, both on and off the field."
Yorkshire were relegated to Division Two of the County Championship on the final day of the 2022 season.