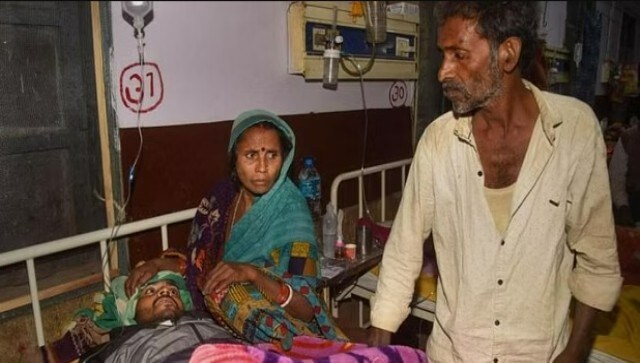 India's health infrastructure needs more attention. PTI
Next year, from 2024, the country will hold general elections, which will be a vote-on-account. So, 2023 will be the last full budget of the Narendra Modi government since coming to power in 2019.
COVID-19 has made us realize the importance of health to our economy. So, it is high time the nation gives health its due share, which is long overdue.
Budget allocation to the health sector should consider the following:
1) The National Health Policy (NHP-2017) released in 2017 promised to increase health expenditure by 2.5 percent by 2025. In 2023, it must go to 1.80 percent. It must include allocations for public hospitals, diagnostics, pharmaceuticals and digital health, including R&D and capacity building for healthcare at all levels.
2) Health care is a public good. If India wants to become a developed country by 2047, healthcare must be made tax-free. Rising health care costs make the poor poorer, and people are shocked to see people avoid treatment because of expensive health care in the private sector.
3) Jan Yadhi and AMRUT stores should have a separate budget for providing free and subsidized medicines on the lines of PDS.
4) The number of senior citizens is now over 130 million, and the incidence of cancer is increasing. We need to build hospices and care homes (including community centers) in every city. Budgets must be allocated as in mission-mode programs.
5) India is a young country with an average age of less than 30 years, so it is time to allocate at least Rs 30,000 crore for a comprehensive sexual and reproductive health programme. Otherwise, the burden of unwanted pregnancies, STDs and related mental health disorders will become widespread.
6) We must implement 'The Giving Back to Society Programme' mentioned in NHP-2017. The government must allocate at least Rs 500 crore for its implementation, so that the care providers who want to contribute can serve the needy sections of the society.
7) Some cities lack primary diagnostics and specialized care, and this must be a focus area to strengthen government infrastructure in line with NHP-2017. We must introduce pin-code-based mapping of services so that people do not have to cross golden hours to get any level of care. I see no reason why we should encourage large healthcare chains to enter small towns. Providers in these small towns should be able to provide health care, and the government must 'only' fund the performance gap of local providers and subsidize their services while ensuring quality of care is appropriate and outcome-based. Disclosure of results should be made mandatory, and those who achieve the desired results should be encouraged.
8) There is an urgent need to provide horse van services to all government hospitals and cities. My mother was a class one government servant when she died, the hospital refused an ambulance to take her body home and we had to carry the body wrapped in a bed sheet in the boot of our three-wheeler. The same is seen now and then with the carrying of the dead in two-wheelers or handcarts. People in healthcare should not be stripped of their dignity and even more so, when the system fails to save lives. The government must ensure that every government hospital and every city should have a horse van service like an ambulance, which must be a part of the NHM.
9) Women's health is the biggest challenge of our time. It should follow the life-cycle approach and not just the reproductive cycle approach and must be holistic. This is key to achieving 'Health for All'. Women's health programs must be re-embedded with Integrated Child Development Services (ICDS). Women and Child Development Department (WCD) along with other programs must be brought under Ministry of Health and Family Welfare (MoHFW) and increased budget allocation.
10) During my tenure as Advisor to the Union Health Minister, I introduced digital dashboards to track beneficiaries for 'coverage' and 'usage' (usage) of various government schemes. It must be introduced under the National Health Mission (NHM) / National Health Authority (NHA) with a separate IT budget.
11) The government must ensure that the community-based monitoring mentioned in NHP-2017 is not paper-based and has a budget for grassroots input. It should be prohibited to hold review meetings in five-star hotels in the last quarter to finalize the health budget. The review should take place in a community setting, and there should be a budget for monitoring and evaluation.
Health is a unique electoral proposition (UEP), and a government that invests in health will never lose an election. Investing in health will be a compelling proposition for voters, and for the Modi government to win the 2024 elections with huge mandates, focusing on health and education will undoubtedly break 2019 records.
The author is the founder of Health Sangsad and Digital Health Academy. He tweeted @rajendragupta. Opinions expressed are personal.
read all latest news, Trending news, cricket news, Bollywood news,
India News And entertainment news Here. follow us Facebook, Twitter And Instagram.